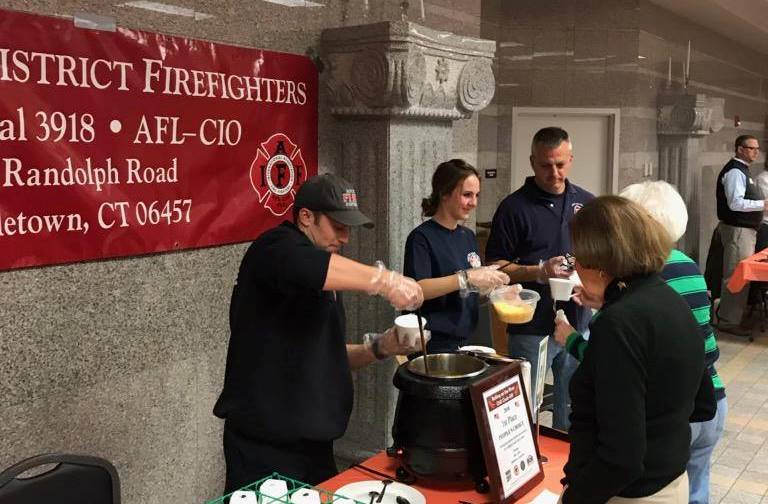 This year's  Amazing Challenge Soup Supper on October 25, 2018 was a huge success! We filled the hall with energizing spirit – good fellowship and conversation, delicious soups, breads, and desserts, and an incredible crew of celebrity servers and volunteers. This fundraiser kicks off the City of Middletown's Challenge Grant. On this one night we raised just over $12,500 in donations – as we go through the fall season we expect to raise the minimum of $65,550 to leverage the City's grant of $32,775!
Thanks to Cross St. AME Zion Church for hosting us. CT Rental Center donated cups, spoons, ladles, and warmers. Sue Murphy from the Liberty Bank Foundation sang Amazing Grace. NoRa Cupcakes donated mini-cupcakes. Dunkin Donuts gave us the coffee. Price Chopper, Miss Kelly's Bakery & Cafe and Public Market all donated bread. Soups were made and donated by:  Blackbird Tavern, Brian Swan, Chef Jeremiah Rufini, Church of the Holy Trinity, First Church of Christ Middletown, Herd Restaurant, ION Restaurant, Middlesex Hospital, Jeff Musumano (Red Lion Hotel),Silvana's Catering, South District Firehouse and South Congregational Church. Cookies were baked by many people, including Kathleen Kelly, Nan O'Brien, members of St. John's Church and Amazing Grace Pantry volunteers.
Many thanks to Mayor Dan Drew, our state senators and representatives, councilmen and women, incumbents and challengers, members of the Board of Ed, the faith community and civic leaders. Mimi Rich, Nancy Meyers, Betsy Morgan, Peter Keast and Kathleen Kelly helped with all of the organization. St. Vincent de Paul Board Members and staff and friends volunteered with everything from set-up to clean-up. And of course Bill Maune always takes excellent photos and videos.
Amazing Grace brings out the best in all of us as we commit to Meeting Needs & Offering Hope in our community. This year we also had the pleasure of introducing our next Executive Director, Ethel Higgins. I am confident that Ethel will lead this agency with new energy, commitment and compassion.
Thank you for your kind and generous gift on this special evening.
Warm regards,
Ron Krom
Executive Director
See more coverage of the supper by Bill Muane (thanks Bill!)