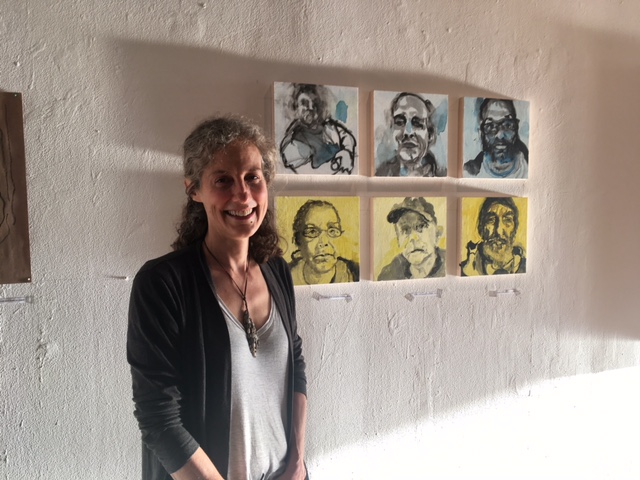 What began as a Middletown community art show in October has now taken on a life of its own and is heading to it third showing in Hartford.  Abby Carter's Crossing the Street: Portraits of People in the Community expressive pencil portraits and her larger oil interpretations of  St. Vincent de Paul Middletown's Soup Kitchen guest "regulars" will be on display in the Lyceum in mid-February a stint at Legislative Office Building in January.
In the fall, St. Vincent de Paul Middletown (SVDM) in collaboration with the MAC650 gallery (Middletown Art Collective), the North End Action Team (NEAT) and Middletown North End Gallery Walk sponsored the opening of Abby's work at two spaces. Many saw over 230 of her sketches of folks on Soup Kitchen wall at 617 Main Street, and her larger portraits done in oil and acrylic by literally "Crossing the Street" to MAC650. See pre-show article here. Read about the October opening here.
Abby Carter of Hadlyme is a renowned children's book illustrator for publishers Hyperion, Holiday House and Walter Foster, Jr.  She's been Artist-in-Residence at the soup kitchen since 2012, encouraging guests to draw anything they like using her large sketchpads and art supplies.
The display in Hartford is free of charge, and is opened to the public during regular business hours, Monday through Friday from 8:00 a.m. to 5:00 p.m.
Click here to see how you can get Abby's book from her show.